Krechet-Class Cruisers
Overview


Scenes


History


For more than 5 years before the SSWR-II-A reactor was certified, development of the ships to use the new reactor had been underway. The first class of ships, the Krechet-class cruisers (CCM-1), were based on the fusion-powered Amarillo class (CC-33), which was the UESN's most modern ship at the start of the war. Both Amarillo and Krechet had spherical hulls some 58 m in diameter which housed most crew facilities, command centers, computer cores, life-support machinery, and weaponry. The main differences between the ships were in the secondary hull. Krechet was the first UESN ship to be powered by the new SSWR-II-B reactor. Instead of the twin outboard nacelles of Amarillo, Krechet used a single spherical Kraftei III nacelle mounted directly behind its warp reactor and two small Jaguar II directional nacelles outboard of the primary hull.
As expected, Krechet's performance at impulse was rather poor but was not considered a serious operational handicap since extensive combat at sublight speeds was not anticipated. However, Krechet's performance at warp was significantly improved. Whereas Amarillo had a top speed of wf 2.8 (22 c), Krechet could reach wf 3.5 (42.9 c) and maintain this speed for 8 days. At a cruising speed of wf 3.0 (27 c) Krechet could operate continuously for nearly 200 days. In addition, because Krechet no longer had to carry large quantities of deuterium to fuel its main reactor, it could carry a larger payload, including more munitions, stores, and consumables.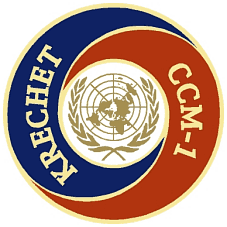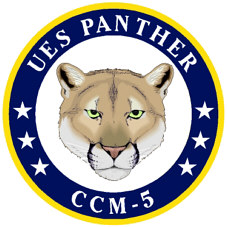 The usefulness of M/AM-powered cruisers was quickly demonstrated with the first major action of the Krechet class. While on patrol along the Romulan frontier in sector 23 (a potential invasion corridor previously undefended owing to the limitations of fusion-powered warships), UES Bowen (CCM-2) detected a trio of Romulan tankers heading deep into UE territory. Like a shark following a trail of blood, Bowen followed the tankers' course and discovered a massive, 50-ship Romulan armada that had already penetrated 4.5 ly into UE territory. Bowen was able to dispatch a message torpedo to Starbase Jordan, where the alarm was raised. A defensive force, spearheaded by the new Krechet- and Tannhäuser-class cruisers, engaged the Romulans at the Battle of Hell's Gate. After a fierce, 3-day action, the remnants of the badly mauled and surrounded invasion fleet self-destructed to avoid capture.
Eight Krechet-class ships would eventually be built. Although the Krechet class was a transitional design that was not effective across the entire performance spectrum, it did allow the UESN to gain valuable experience in maintaining and operating M/AM reactors under service conditions. As the UE Alliance went on the offensive in mid-2158, Krechets were largely relegated to secondary roles by the newer and more capable Powhatan and Comet classes.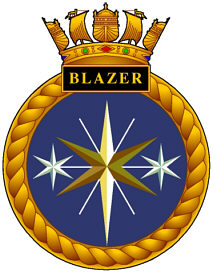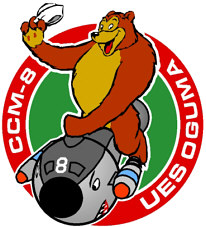 The Krechet-class cruiser UES Feuerstein (CCM-4) is now on display at the Starfleet Museum.
Commissioned Ships


UES Krechet CCM-1
UES Bowen CCM-2 **
UES Rattler CCM-3
UES Feuerstein CCM-4
UES Panther CCM-5
UES Blazer CCM-6
UES Shturmovikh CCM-7
UES Oguma CCM-8 **
** denotes lost or missing ships.
Specifications


Standard displacement: 132,691 t
| | | | | |
| --- | --- | --- | --- | --- |
| | Overall | 1° Hull | 2° Hull | Nacelles |
| Length [m] | 116.85 | 53.99 | 62.86 | 39.60 |
| Beam [m] | 87.19 | 61.22 | 36.25 | 9.19 |
| Draft [m] | 61.22 | 58.15 | 36.25 | 9.19 |
Crew complement: 368 (59 officers + 309 crew)
Weapons: 12 Spider area-defense missiles, 24 Narwhal long-range antiship missiles, 2 turret -mounted pulse laser cannons
Embarked craft: 10 transatmospheric sublight shuttlecraft
Warp drive: SSWR-IIB reactor with single midline Bison IX nacelle and 2 Jaguar II directional nacelles
Velocity: Warp 2.6, standard; Warp 3.1, maximum
Units commissioned: 8